Seattle Business Magazine Recognizes Haley Mfg as Manufacturer of the Year, 2020
March 12, 2020
Yakima, WA
The Washington Manufacturing Awards recognize companies making important progress in productivity, growth and innovation. Haley Manufacturing has been recognized in the small business category as one of two top manufacturers of the year in 2020.
Josh Logsdon, VP of Sales and Marketing
Haley Manufacturing
509-480-1501
josh@haleymfg.com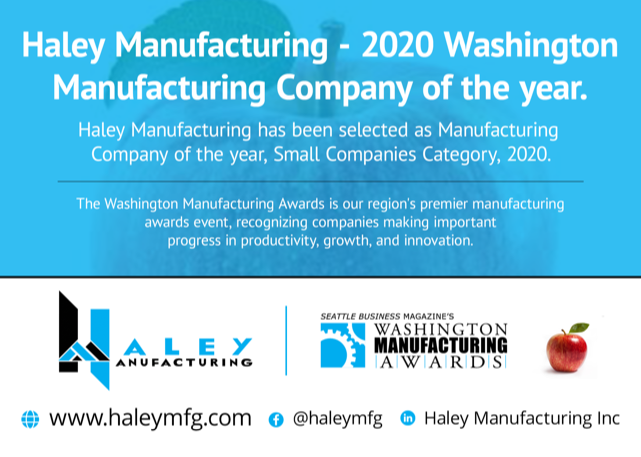 ---
Haley Manufacturing to Offer Automatic Apple Poly Baggers
June 4, 2018
Yakima, WA
Haley Manufacturing of Yakima, WA is excited to announce that they have purchased the rights to The Automatic Poly Bagging machine from Seatac Automation Systems. Josh Logsdon, VP of Sales and Marketing stated that it was a natural fit for Haley to purchase the rights to manufacture, market, service and sell the machine from SAS. The newly improved SAS Poly Bagger by Haley Manufacturing boasts a top speed of up to 20 bags/minute with fine tune speed controls to accommodate for more delicate varieties.
Logsdon says that "many of our customers have voiced their opinion and are dissatisfied with the slower more traditional apple poly baggers in the market. They are looking for ways to increase throughput, bags/minute and minimize labor." With a nearly 50% increase in speed compared to existing bagging models, customers are able to move more bagged fruit in a much shorter period of time. Additionally, the footprint is very compact and can easily fit into existing facilities or replace older poly baggers.
The addition of the Automatic Poly Bagger compliments Haley's focus on automation. Currently Haley Mfg. offers The Automatic Apple Tray Inserter as well as the Automatic Pouch Bagger. "We are extremely excited to continue offering new, creative and automatic packaging equipment that our customers are requesting."
Haley also offers traditional packing line conveyors, integration, cherry hydro coolers, water treatment and filtration systems.
For more information please contact:
Josh Logsdon
Haley Manufacturing
509-480-1501
josh@haleymfg.com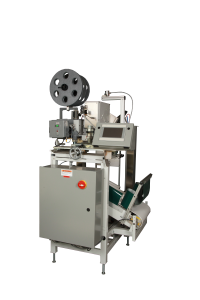 ---
Haley Manufacturing Adds New VP of Sales
May 3, 2018
Yakima, WA
Haley Manufacturing is excited to announce Josh Logsdon has joined their team as the new VP of Sales and Marketing.  Brandon Haley, President, says that "Josh comes to the company with over a decade of packaging equipment sales and is known for his ability to drive and build new packaging trends."   Josh is a 2014 recipient of The Produce Business Magazine 40 under 40. His past success in bagging equipment and material sales translates well for Haley's current line of automated equipment and plans for future product expansion.
Haley Mfg. specializes in automated packaging equipment including automatic tray inserters, poly and pouch bagging equipment and packing line integration for produce such as apples, avocados, pears, cherries, and more.  Additionally, Haley Mfg. also owns CTC Waterworks and offers Cherry Hydrocoolers, high-end water filtration solutions, chemical free water treatment (Flowtech), Sulfur Burners to control PH and more.
Brandon Haley – President
Haley Mfg. Yakima, WA
509-965-3333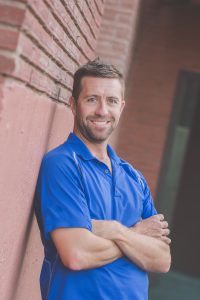 ---
Automated Box Tipper to Eliminate Manual Labor
March 2018
Yakima, WA
https://www.freshplaza.com/article/193497/Washington-company-develops-automated-apple-tray-inserter
A Washington based equipment manufacturer has designed and built an automated box tipper. The box tipper, called "ABT-40 Automatic Box Tipper" is specifically designed for re-packers that receive imported fruit and need to add that fruit to the line to be graded and bagged. Where this has been manually done by workers tipping the boxes themselves, the idea is to perform this function by machine, practically eliminating the need for manual labor for this task.
"Most citrus re-pack lines utilize 1-2 people to dump boxes of fruit," said Josh Logsdon of Haley Manufacturing, the company that makes the ABT-40. "This job can be very strenuous as well as limit production as workers fatigue throughout the day. We have designed the ABT-40 to eliminate this need and let the machine tip the boxes automatically and efficiently. The only reason a person is needed is to load boxes from a pallet on to the in-feed conveyor to feed the ABT-40."
Fundamental operation
The ABT-40 is a fairly simple idea and operates accordingly. Once the worker loads the boxes onto the in-feed conveyor, the machine takes over and dumps the contents of the box onto the line. The entire tipping process from the in-feed to the box conveyer is fully automated.
"The ABT-40 indexes boxes of fruit into position, clamps the box to the tip plate and then rotates it about 120 degrees to release the fruit onto a transfer plate and roller inspection table," Logsdon explained. "It then rotates back into position and discharges the box to a box conveyor. The next box indexes into position and the process repeats itself."
Logsdon added that the machine has a relatively small footprint and described the cycle times per hour. "The ABT-40 fits into a small footprint at the front of the line very easily," he pointed out. "The machine capacity is dependent upon the type of fruit being run through the machine. However, for citrus the ABT-40 can cycle 9300lbs per hour or more."
Working with other fruit on the line
Haley Manufacturing said it thought about how re-packers process the fruit and built the ABT-40 to allow for other fruit that may already be running on the line. The machine has sensors that tells it when to dump so as not to overload the conveyor, as Logsdon explained. "It utilizes sensors and photo eyes to sense the amount of fruit on the inspection table. These sensors tell the tipper how frequently to tip fruit and how fast. Thus allowing the table to maintain a constant, steady flow that matches the workers that are inspecting it."
Additionally, the machine can be adjusted to the most appropriate operation for production. The functions that can be adjusted include how the boxes flow, the speed boxes are tipped and size of boxes. "We built the machine with servo stepping motors that certainly cost more money but allow for these functions to be adjusted easily," Logsdon shared. "In comparison to traditional cylinders and shafts we can adjust very easily to changing packaging conditions."
Focus on citrus for now, plans for more items
Currently, Haley Manufacturing are working with citrus re-packers that process citrus from the southern hemisphere. In the future, however, they see the ABT-40 utilized for a number of different produce items.
"At the moment our focus is to work directly with citrus accounts that need to dump and inspect citrus," Logsdon noted. "This is predominantly re-packers that import citrus from the southern hemisphere. "Although we are focusing on citrus now, we certainly expect it will work for onions, kiwi, avocados and other imported fruit from the southern hemisphere."
For more information:
Josh Logsdon
Haley Manufacturing
Tel: +1 (509) 480-1501
josh@haleymfg.com